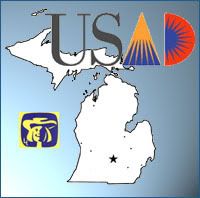 I'm a Quaker. Often people think I'm Quaker by faith. Instead, I'm Quaker via alumni status. That's right -- I graduated from Lansing Eastern High School in our fair and fabulous capital city.
But I'm throwing this out into the blogosphere as a request to my fellow Michiganians to support some of their own. Every year, Michigan has a small, but important State competition for high schoolers -- the State Academic Decathlon competition.
To explain: Academic Decathlon is a national 10-category competition, in which a team of 6-9 individuals compete. These kids compete in everything from Interview and Public Speech, to Music, Economics, Language and Literature, and a massive "Super Quiz" that encompasses either a natural or social science theme.
This competition truly changed my life in my high school years: you learn about Gauguin, Cassat, Wagner, Shakespeare, economic models, mathematical formulas, and beyond. The cirriculum always has a new theme every year keeping the subjects fresh and challenging.
The team of 9 Quakers at Lansing Eastern High School have won the competition, but due to hard economic times, only 6 of the team members will be able to go to the national competition to represent our state.
It's an important life experience, let me say. Nothing made me more proud than to be elected by my own team members to proudly carry our State Flag as we did a procession of all the states in attendance.
Nothing!
My mom has created a request via "Help My Hometown" requesting $5,000 to help send the other three team members to this national academic competition.
IT IS NOT A FUNDRAISER
, but a request.
What I ask is for you to simply share your comments and support for the students in Lansing. This April, they will be our "One Michigan" -- and they should go as a team.
If you have time, please visit the following web site and leave a comment. Your support and kind words are more than enough. The link will open in a new window.
Hometown Project: State Champs to Participate in National USAD Competition.
I've always been a strong advocate for my "urban" alma mater, and for education. We were often overshadowed by athletics or forgotten in yearbook, even as we went to nationals ourselves.
That's all. I'll be back to politics shortly. ;)
To close, I'll add what my mother has written on the page:
The State of Michigan is currently suffering an enormous fiscal crisis with the decline of the US auto industry, and state schools struggle to provide the basics. In this climate, we find it difficult to locate monies for extracurricular activities even though we recognize the benefit to students.

At Lansing Eastern High School, the teachers and students have committed themselves to continuing the pursuit of academic excellence despite 'inner-city' stigma. This school year was particularly enobling, as Lansing Eastern H.S. attained the coveted International Baccalaureate Magnet status.

This year, one of our achievements was earning the State Championship for the US Academic Decathlon. During this competition, three 'A' students, three 'B' students, and three 'C' students work collaboratively as a team to answer questions in the categories of Art, Literature, Mathematics, Economics, Music, Social Science, Super Quiz, Interview, and Speech. It is a rigorous event requiring months of study and preparation beyond the required school work.

Needless to say, our students were overjoyed to receive the title of Michigan Academic Decathlon Champions on March 7, 2007. However, that joy was tinged with sadness when we learned that there was not enough funding for the entire team to participate in the National Competition to be held in Hawaii this year. Due to the high travel costs, only 6 members will be able to participate. This hardship will fracture a team which spent the last 6 months together, a team bonded in a common goal. We ask for your help.