As we're approaching the 2nd inauguration of Jennifer Granholm as our Michigan Governor, here's a little blast from the past!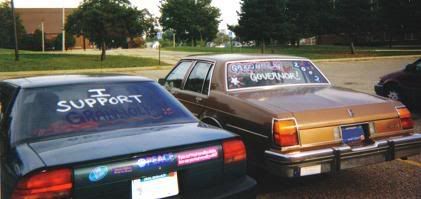 This is from my senior year of high school in the Eastern High School parking lot. My BFF and I painted our rear windows for JG in 2002. Of course, my car was viciously attacked with a barrage of Posthumus bumper stickers one day -- but no one could stop the Granholm train that was being pimped out via my 1985 Oldsmobile Delta '88! People would honk and wave as election day approached; it was a big hoot. ;)
Just a little bit of fun! Happy Holidays; Merry Christmas!